Mini Projector On The Go Packs Everything You Need For An Unforgettable Watching Experience
✓ Smooth touch controls 
✓ Keystone auto-correction
✓ Hifi speakers 
Lenso Cube: Your all-in-one smart mini projector 
Secured and trusted checkout with
Pocket Sized With A Touch Display
Lenso Cube is the smallest projector of its kind. This portable projector easily fits inside handbags, backpacks or briefcase. Plus, the touch display allows you to select your favorite songs, movies or apps with ease.
A Home Cinema in Your Pocket
The Lenso Cube is compatible with over 3,600 apps (and counting) on the Google Play and Apple App store. Play your favorite movies on Netflix and YouTube or simply play a game of Angry Birds – the decision is yours.
the world smallest projector
Unlike bulky projectors that are either too big or too weak, the Lenso Cube is a class of its own. It's small and compact design allows you to play your favorite movies, music or games wherever might find yourself.
Lenso Cube connects to your devices via WiFi, Bluetooth, HDMI or USB, making it universally viewable, sharable, portable. From music, to apps and film – the Lenso Cube has everything you need.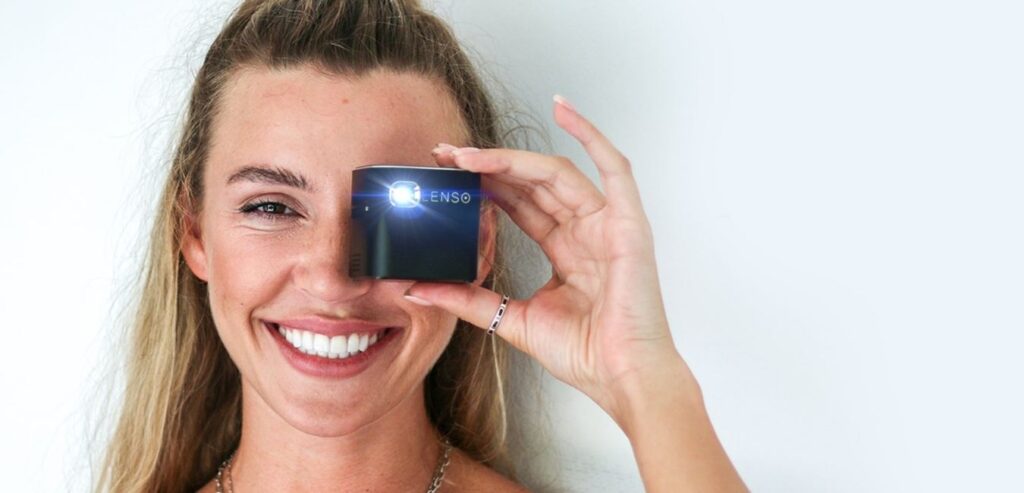 Everything works as expected!
So happy with this little cube of mine. We mostly use it for Netflix and Youtube. Haven't tried it for outdoor but so far working great inside the house. Quality is decent. All as expected.
Best decision! I have a twin girls and 1 TV at home. Sometimes me and my wife are desperately wanting to enjoy some movies on Netflix but not an easy thing to do with kids begging over a cartoon. We looked for projector and glad we found Lenso. This mini projector helps the kids and also us to enjoy our own entertainment. Sometimes we set this up in their room so they can enjoy their cartoon while we're having the TV. Or we set this up in our room with Netflix on while the kids having the TV. The size makes it easy to install anywhere we want. Easy to set up and good speaker is a plus.
Compact and easy to set up. Everything works properly.
Impressive gift. I bought this projector cube as a gift for my dad's birthday and he loves it! He's a big fan of rugby and likes to invite his mates over to watch it. Instead of moving the TV around like he used to, he simply just put the projector in the backyard where they like to enjoy the game together. It's practical, easy to use, great video quality, and have a very decent speaker. I haven't tried it myself but my dad is for sure very impressed.
Lenso Cube Projector
Remote Control
Quick Charge Wall Adapter
HDMI Cable
Adapter Tripod